During-and-After Comprehensive NICU Support for Parents of Preemies
The Gift of Life provides services to parents and families of preemies from NICU admission to discharge and beyond. 
Are You a New Preemie Parent? Here's Our First Gift for You:
Instant Download
What to Expect While You are in the NICU
by Dr. Rosie Moore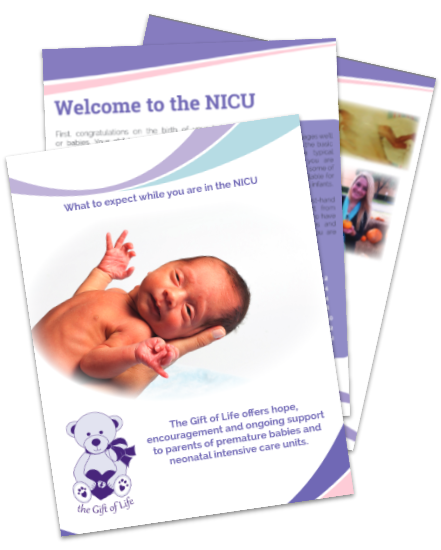 In this 28-page information-packed guide to the NICU you'll learn:
NICU To-Dos
Miracle Medical Equipment
How to Be Your Baby's Best Advocate
What to Do When Emotions Run High
The Best Ways to Take Care of Yourself anos d Why
…plus discover testimonials and stories of other preemie parents who can relate to what you're going through.
The Gift of Life has partnered with The Colette Louise Tisdahl Foundation to provide financial assistance to families in crisis due to high-risk and complicated pregnancies, premature birth/NICU stays, or loss. To apply, visit their website at colettelouise.com. 
Preemie parent mentors are professionals and parents who have either had preemies or worked with preemies. They volunteer with The Gift of Life in order to use their knowledge, experience, and passion to assist other parents of preemies in overcoming the unique challenges these moms and dads face.
Each of our mentor must go through extensive training and screening. They assist us in providing preemie parents with the emotional and resource support. To protect the parents' privacy, each mentoring session takes place either in person or through our Akos Connect telehealth system.
Akos Connect is a revolutionary telehealth platform that allows mentors, case managers, and nurses to provide support from their smartphone, tablet or desktop. This HIPAA-compliant platform allows remote access so mentors can virtually consult with parents anytime, anywhere. You can learn more about our telehealth program here.
Meet Our Preemie Mentors: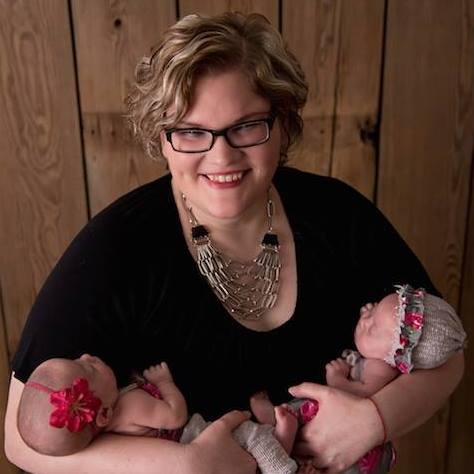 Jen Labriola
Jen's twins were born 11 weeks early. These two adorable micro-preemies were born weighing only 1lb 12 oz and 2lb 5oz – they were born early due to an umbilical cord issue in the smaller baby.
I can help with cord issues, twins, NICU issues with nurses, formula ideas, dealing with twins, reflux, work/life balance, stress/anxiety, working mom, infertility, NICU blood transfusion, dealing with remarks about having smaller babies, PTSD from NICU.
– Jen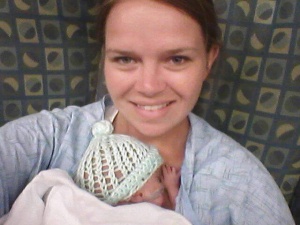 Erin Burns
My name is Erin. I gave birth to my first born on April 26, 2012, 3 months premature. Chloe weighed 1 pound 2 ounces 11 inches long. I had her because of IUGR (Intrauterine Growth Restriction). She was in the NICU for 120 days. She had hydrocephalus, a Gruver, laser eye surgery and 4 shunt revisions. She was a happy little girl. She did not grow and eventually succumbed to a rare genetic disorder February 27, 2015. She will forever be remembered as a fighter.
Experience with g tubes, giving blood (Chloe was a very hard stick), I had to administer shots to Chloe after she lost her leg so I'm also familiar with amputation.
For more information, see A Tribute to Chloe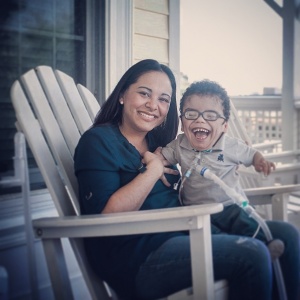 Jennifer Figueroa
My preemies were born at 25 weeks. Days spent in the NICU: 432.  Days Current age of preemies: 2 years and 7 months.
Our NICU Journey: We spent 432 days in the Hospital. Mateo is a twin survivor, Lucas passed away a week after they born. Mateo's lungs were immature insomuch that at 4 months old we did the trach. He is vent dependent, G-tube and has a trach. But God showed us that there's NO limitation or situation where His power can't show. Mateo is now crawling, standing and playing like a normal toddler. God is good and I always believe in the power of prayer.
– Jennifer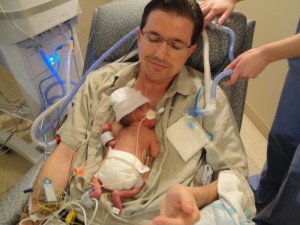 Marcus Moore
Marcus might not consider himself to be a superhero, but he's Superman to Rosie and Kaleb. In fact, in the telling of his story any dad of a preemie can find the courage to soar in his role as a father. Marcus is the co-founder of The Gift of Life. When Miracle Kaleb was born, Marcus left his job to stay home and take good care of his brand new preemie son. Now Kaleb is a healthy young boy and Marcus does all he can to reach out and give back for the miracle he and his family have received – he is eager to serve as a preemie mentor.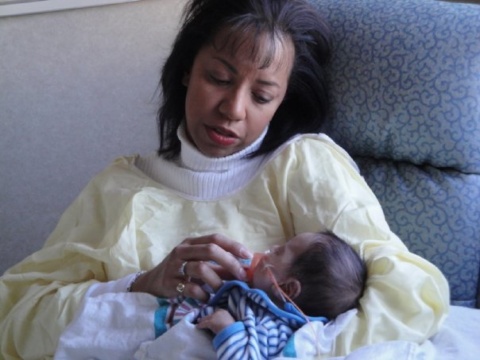 Rosie Moore
Rosie Moore had a premature baby, Kaleb, who was born weighing only 1lb and 10 oz – he only spent 27 weeks in the womb and was born 13 weeks early. Kaleb was in the neonatal intensive care unit for 5 months. During the Moore's stay in the NICU, Rosie noticed how she and her family did not have support of anyone other than the staff. The NICU can be a busy and ironically lonely place – that's why Rosie founded The Gift of Life. Now Kaleb is growing up strong and Rosie is working to give back to the preemie community by running this organization and serving as a preemie mentor.
NICU Admission & Discharge Care Packages
When the uncertain state of your fragile baby's health is at the forefront of your attention, it's easy to let the small-but-important necessities of life go unaddressed. The Gift of Life provides care packages to families during and after the NICU stay to help ensure they have the supplies they need.
*Please note that the actual contents may vary according to item availability. Some of the supplies are donated by our partners at Enfamil Mead Johnson and Pampers.
These care packages are provided when babies get admitted to the NICU.

Thermal Bag to carry Breast milk
Ice Pack
Containers for breast milk
DVD When Baby Comes Early
Booklet on Breast Feeding
The Gift of Life Booklet What to Expect in the NICU
Book by Author Rosie Moore A Story of Faith
Welcome Flyer
Contact Card
These are provided to parents as they get discharged to bring their babies home.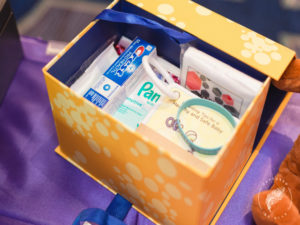 Gift of Life Tote Bag
Newborn Cloth Baby Book
Gift of Life Informational Flyer
Parenting Tips Key Chain
Female Pads and Liner
New Baby Booklet
Baby Blanket
Baby Wipes Sampler
Toothpaste
Tissues
Classical Music CD Lullabies
Contact Card
Feeding and Diaper Record Keeper
Gram to pound Conversion Chart
Fetal Infant Growth Chart for
Preterm Infants
Booklet on Preemies Going Home
Breast Feeding Nursing Pads
Whether it's finding a place to stay that's closer to the NICU, transportation assistance, or other resources, we help preemie parents locate what they need. It means less worrying over how you're going to manage and more focus on loving, supporting, and celebrating your preemie's life. Our case management services are available both during the NICU stay and after discharge.